The Company in a Nutshell
The company spends around $1B yearly on its growth capital program.
KEY is a well-integrated energy company.
It's heavy concentration in Alberta could be the smartest idea… or the worst.
In November 2018, Keyera missed earnings expectations with their latest quarterly report. The stock was already not doing so well, but now, it's clearly diving down. While management tries to convince investors it will thrive in the future and reward them with juicy dividend hikes, do you think it's the right time to invest in this midstream? Let's take a look.
Source: Ycharts
Business Model
Founded in 1998, Keyera is among the largest independent midstream energy companies in Canada. It is engaged in gathering, processing, and fractionation of natural gas in western Canada; storage and transportation of crude oil and natural gas by products; and marketing of natural gas liquids. Through its business integration, KEY benefits from diversified sources of income coming from "gathering & processing", "liquids infrastructure" and "marketing" segment.
Source: KEY investor presentation
As you can see, the company's infrastructure is mostly based in Alberta. The company has enjoyed strong growth in the past, but Alberta oil sands exploitation is not that obvious anymore.
Growth Vectors
Keyera's business model is all around oilsands and natural gas. The company has made a great job in integrating all aspect of its business to make sure it generates great margins at each step.
Source: KEY investor presentation
As long as there will be demand for oil sands and raw gas, Keyera will definitely surf this tailwind. Management has spent about $1B in growth project in 2018 and expect to spend about the same amount ($800M to $900M) in 2019. This should ensure strong production capacity for the years to come.
Potential Risks
Keyera doesn't enjoy the stability of major pipelines as most of its contract is not signed for 20-25 years. Therefore, a rapid shift in the industry could affect their business model. Demand could drop and Keyera would be left with large (and costly) infrastructures not doing much. KEY could definitely suffer from overcapacity in the future.
KEY's activities are highly concentrated around one region. If there is a shortfall in production in Alberta, KEY will pay the price of this concentration. Regulations may slow down future project as environmental concerns rise. Oil sands isn't the cleanest energy source around, right?
Finally, KEY's keep increasing its debt year after year for the past decade. We understand KEY needs to invest to ensure growth. However, it's always easier raising debt when the market has a strong appetite and interest rates are low. The game rules could change in the upcoming years.
Source: Ycharts
Dividend Growth Perspective
With a 5%+ yield and a monthly distribution, Keyera has been on many dividend investors' Christmas gifts list. Management has made sure to transform KEY into a shareholder friendly stock. However, its price evolution isn't exactly going toward the same direction compared to its dividend.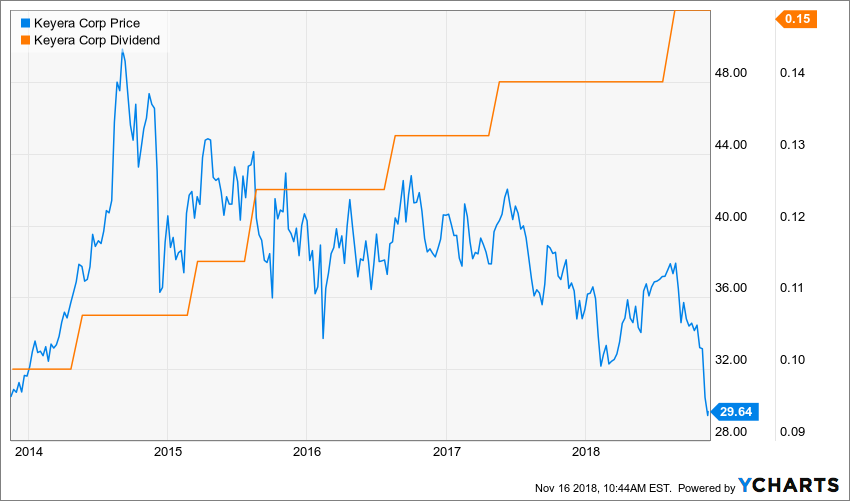 Source: Ycharts
The market is concerned about production slowdown, its higher debt level and its ability to generate additional cash flow during a downturn. While KEY maintains a distributable cash flow payout ratio around 60-70%, we all know this could change quickly in this sector.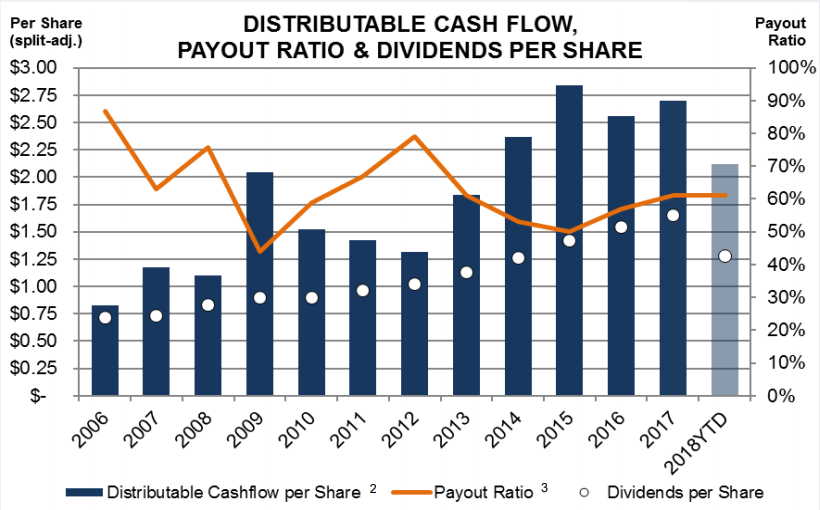 Source: KEY investor presentation
KEY's dividend is safe and management expects to increase it by 5%/year for the next 5 years. Will they achieve this great goal? We are not 100% sure. For now, KEY meets our  7 dividend growth investing principles.  However, the situation could turn around quickly.
Valuation
After such debacle on the stock market, you may think there is a great deal waiting for you. Let's take a look at how KEY has been valued by investors over the past 10 years: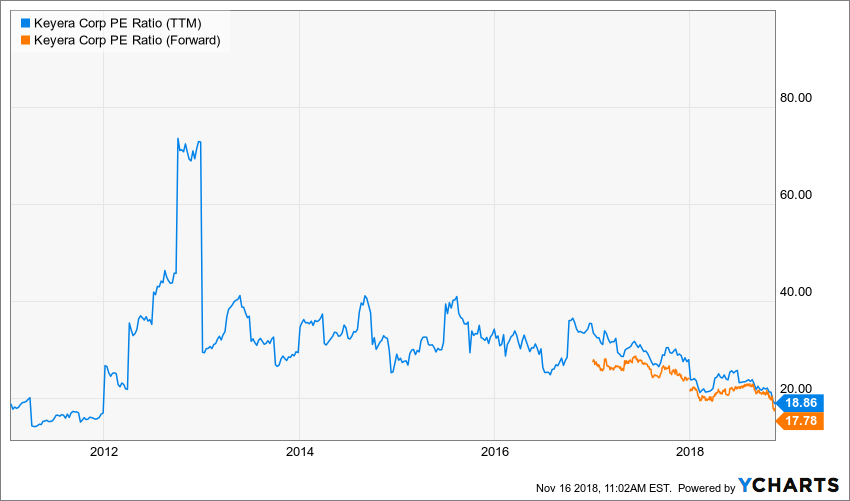 Source: Ycharts
As you can see, KEY has usually been trading over a 20 PE ratio for several years. The recent PE drop could be linked to either a great opportunity or the meaning that the golden era is over.
Management intends to increase its payout by 8% over the next 5 years. We rather use more conservative numbers for our dividend discount model. We then used a 4% long term dividend growth rate and the average between the 8% KEY forecast and our 4% expectations for the first 10 years:
Input Descriptions for 15-Cell Matrix
INPUTS
Enter Recent Annual Dividend Payment:
$1.80
Enter Expected Dividend Growth Rate Years 1-10:
6.00%
Enter Expected Terminal Dividend Growth Rate:
4.00%
Enter Discount Rate:
10.00%
Discount Rate (Horizontal)
Margin of Safety
9.00%
10.00%
11.00%
20% Premium
$52.57
$43.57
$37.15
10% Premium
$48.19
$39.94
$34.06
Intrinsic Value
$43.81
$36.31
$30.96
10% Discount
$39.43
$32.68
$27.86
20% Discount
$35.05
$29.05
$24.77
Please read the Dividend Discount Model limitations to fully understand my calculations.
Then again, there seems to have an interesting opportunity right now.
Final Thoughts
As one of the largest midstream companies in Canada, Keyera enjoys the economy of scale. The company generates profit from processing, storing, transporting and marketing crude oil and natural gas. If you are looking at a strong play on the Alberta oil sands, Keyera may be a good candidate. However, the company will live or die by the sword as such concentration could result in catastrophic outcomes in the event of a bear market. Since 2014, shares are on a downtrend. While management invests about $1B in growth projects per year (2018 and 2019), we also see debt rising. KEY's long-term debt has doubled between 2013 and 2018 (from $1.077B to $2.252B). Proceed with caution.
If you made it this far, let's be honest; you liked what you read. Now it's time to make sure you don't miss our next analysis and you subscribe to the Moose Newsletter by clicking on this link to make sure you don't.
Disclaimer: We are long XYZ in our Dividend Stocks Rock portfolios.
Featured image source: Keyera Website